Welcome to Old World Art Glass
The glass studio was founded in 1974.  It has been owned and operated since 1995 by local proprietor, Scott Krueger.  Scott's artistic design services draws customers from all over the United States.  The charming studio locale is a haven for the local hobbyists and a destination for unique gift seekers all over the Fox Valley.
Scott was born and raised in Fond du Lac, WI.  The son of two entrepreneurs, he was inspired from a young age to own and operate his own business not only to support his family, but also the local community.
After years working in the automotive industry, he fulfilled his life long dream of purchasing his own business.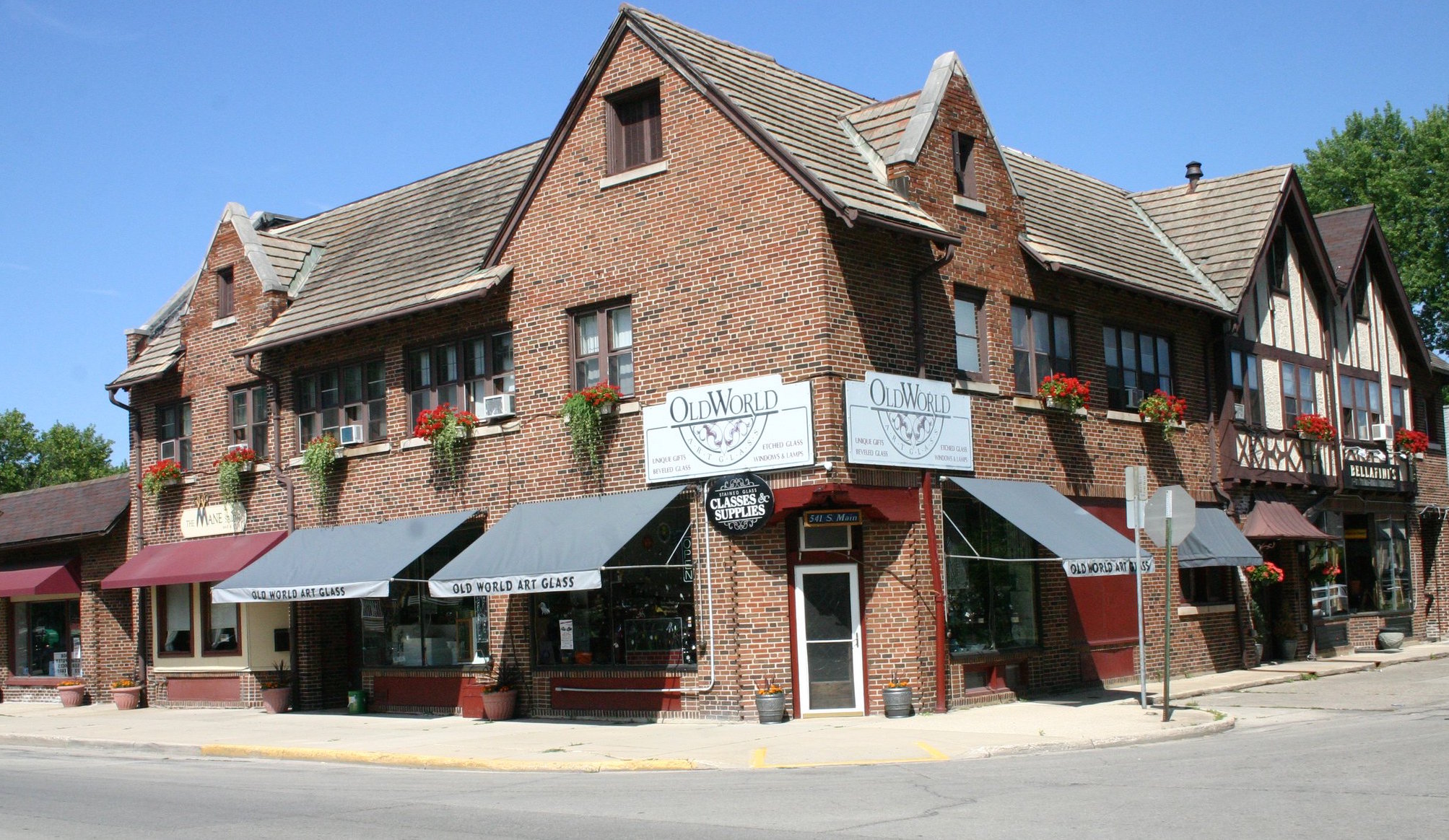 Keep Up with all the Studio News
Finally, some warm weather has arrived.  I have a couple more outside jobs to do and the cold mornings or a heavy dew in the grass don't make it much fun. Lots of repair orders are still coming into the studio.  The new custom work has slowed a bit, but I have seen an increase in supply purchases from some that do the summer craft shows.
I picked up another load of glass from the warehouse last week.  There were a few more colors and textures that haven't been produced in a long time and a bunch of the popular colors that I was running low on.  I have been getting calls from studios and hobbyists all over the Midwest looking for certain colors and textures that Oceanside still hasn't made. Hopefully they catch up on their inventory and start to expand their selection again soon.                   
A Reminder: Summer hours began on Saturday May 25th.  We will be closed on Saturdays from now through August.  We will keep the same weekday hours Mon. – Thurs. 8 -6 and Fr. 8 – 5.
NEW: I got in some new lead. It is the "H" type. The face width is the same as the standard #24, although the face is a bit flatter. The big difference is that the channel of the lead is slightly taller than the #24. It was designed to look like #24 but easier to work with because the taller channel should make some of the thicker or wavier glassy fit in to the channel without having to stretch it apart.
CLASSES  The beginners classes are over for the spring. I have no beginner classes scheduled until September 16th . We are still open on Wednesday nights all summer for the open table time.  If you need a hand with a project, just stop in.
June Sales:
Glastar Grinder: Superstar II –> Sale $ 185.00
14 Ga, Tinned Wire–> Sale $ 5.25
Needle Nose Pliers –> Sale $ 5.50
Hope your summer is off to a great start. 
– Scott
After several years of complete inactivity, we are redoing our website. With the old website I was unable to change or update the site.  I had to go through a process of making sure the format and size was correct, then email it to a third party just to add a new picture. And forget about adding an event to a calendar! The event would be long over before the calendar got updated.  So in the next month or so we will be completely changing the site. We are using an entirely new template. It should be easier to find what you are looking for and easier for me to keep it up to date.  The site will also be formatted so it can be accessed from phones and tablets properly.  I'm not sure I can handle all that but I have some help and they assure me that even I can learn this….
New:  I talked to my supplier last week. They said the new Spectrum Glass is shipping glass a little faster. They have received shipments every other week for the past six weeks. Hopefully they will now start to expand their color pallet.  Still no greens!
Classes: The Spring beginner's class is over half way done! The advanced "open table time" class is meeting on Wednesday nights starting at 6:00 PM. It is a nice way to get out of the house this winter/spring for a few hours.
May Sales:
Lead Vise (Spring Loaded) –> Sale $5.99
Glass Pro 50/50 Solder –> Sale $13.00
Horseshoe Nails (25 pack) –> Sale $2.50
– Scott
The snow is mostly gone and it seems like people are coming out of hibernation because the traffic in the studio has picked up. We are also seeing lots of high school students. Every semester we offer a discount to the students in the "Glass and Metals" class at Fond du Lac High School. They have just started their first (lead) project. It's nice to see that the school is offering an introduction to stained glass to the students. We have supported this class for over twenty years now. Over the years we have had a handful of high school students either take our class or continue on their own making stained glass projects. Nice to see interest in stained glass from another generation!
PRODUCT NEWS:  The new Oceanside glass continues to arrive from the manufacturer and our inventory is growing every few weeks. I'm sure it is going to take a while to get the inventory back to where it was 2 years ago but it's great to see new glass every couple of weeks. There is also a new Dichroic glass made by Youghiogheny. They are calling it "True Dichroic." It is supposed to completely change in color and opacity depending upon surrounding light. They are taking pre-orders now so we should have some soon.
CLASSES: I have three students registered for the daytime class right now and that's the largest class I have had during the day in a while. It will sure be different having 3 extra people in the studio on a Tues. & Thurs. morning . Just a reminder, the "make and take" fusing classes remain quiet popular.  It's a fun evening or Saturday afternoon event for a small group. Do you have a group looking for something different to do? We have a great idea for you…
STUDIO NEWS: We will be closed on Friday April 19th (Good Friday) as well as Saturday April 20th.  HAPPY EASTER!
APRIL SALES:
Spray X Glass Cleaner –> Sale $3.25
All Sizes of 1″ Bevels –> 25% OFF
Handy Wedges –> Sale $14.95
HAPPY EASTER!
– Scott
Well we had extreme cold for a few weeks and now we are having snow every other day!  It sure has been difficult to get customers through the door.  But it's March and unless we have a Spring like last year, we should be almost done with this Winter.  Business has picked up a bit. It must be easier to go out in the snow than the cold. We have 3 nice size custom pieces and a nice size order of mugs to etch so that will keep us busy for quite a while.  It's fun when we get to design and build new pieces!. Repairs and teaching classes definitely help pay the bills, but the new designs make the job a lot less like work.
As I said last month, I did have a VERY LARGE glass shipment come in. There is a good mix of the old Spectrum glass (especially  "Waterglass") and the new Oceanside glass. Many of the colors are actually their first run.  My selection of glass is the best it has been in 2 years. Come stock up for all your projects this spring.
NEW GIFTWARE: I have been working on a few new pieces for the showroom. There are some new fused pieces and I have some designs in mind for some old window frames we have acquired over the past couple years.  I'm going to work them into the schedule this spring.
CLASSES:  The day time beginners class just finished up and the evening group just started their second panel project.  Every one seems to be enjoying the class and their panels have turned out pretty nice. I have a group coming in to make some fused projects one evening this month and a fusing class scheduled as well.  The "make and take" fusing classes remain quiet popular. It's a fun evening or Saturday afternoon activity for a small group.
MARCH SALE:
MIKA Iron Stand –> Sale $11.99
14,16,18 ga. Wire 4 oz. –> Sales $5.25
Superbrite Copper Patina–> Sale 4.35
HAPPY ST. PATRICK'S DAY!
– Scott